These heavy-duty lathe chuck shields are designed for lathes or similar machines. They serve two basic functions: (1) they provide a safeguard between individuals and point-of-operation or rotating hazards, and (2) they protect individuals from flying chips, sparks, coolant, lubricant, and other particles. The mounting bracket attaches to the face of the headstock. The shield hinges left and rests at an angle above the headstock, making it easy to change or adjust the chuck or workpiece. The operator doesn't need to reach over the chuck to move the shield in and out of position, and the shield will not interfere with lathes that have a rear guard/backsplash.
Our lathe chuck shield assemblies consist of the 3/16"-thick (0.177" ± 10%) polycarbonate or 14- or 12-gauge steel shield, ¼"- or 3/8"-thick steel mounting bracket, hinge(s), fasteners, and safety sign.
Our lathe chuck shields are proudly made in the United States of America!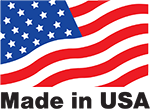 | Quantity | Discount |
| --- | --- |
| 5–9 | 5% off list price |
| 10–14 | 10% off list price |
| 15–19 | 15% off list price |
| 20–24 | 20% off list price |
| 25 and up | 25% off list price |
Note: Items within the same category may be combined for the maximum quantity discount!