Our polycarbonate sign backings are for our safety signs. The backing is 0.060"-thick clear polycarbonate.

To adhere the sign to the polycarbonate sign backing, first remove the protective masking on both sides of the polycarbonate. Second, remove the slit adhesive liner on the backside of the sign. Third, line up the sign above the polycarbonate, allowing for a ½" margin on all sides of the sign. Finally, attach a side or corner of the sign onto the polycarbonate and smoothly swipe your hand or fingers over it from one end to the other, as shown. This will prevent air bubbles from forming under the sign.

To attach the polycarbonate-backed sign to a machine or other equipment, use tape, glue, rivets, screws, or other fasteners.

Our polycarbonate sign backings are proudly made in the United States of America!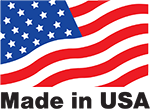 | Quantity | Discount |
| --- | --- |
| 25–49 | 5% off list price |
| 50–99 | 10% off list price |
| 100–199 | 20% off list price |
| 200–499 | 25% off list price |
| 500 and up | 35% off list price |
Note: Items within the same category may be combined for the maximum quantity discount!