Product Information
Point-of-operation barrier guards must be designed, constructed, applied, and adjusted so that individuals cannot reach through, over, under, or around the guards and reach the hazard. Most barrier guards have openings in them due to their design or because they are constructed out of materials such as wire mesh, expanded metal, rods, or hairpins. These openings must be checked for safety compliance.
Table O-10 and the Safe Openings Diagram of OSHA 29 CFR 1910.217 for mechanical power presses are used for reference when determining maximum guard openings and minimum mounting distances of barrier guards so that body parts such as hands and fingers cannot reach the hazard area. The dimensions in Table O-10 and the Safe Openings Diagram come from a series of machine-guarding drawings developed by Liberty Mutual Insurance Company in the 1940s. These drawings represent the relationship between guard openings and mounting distances. The recommended dimensions in these drawings are based upon what was then termed "average-size hands."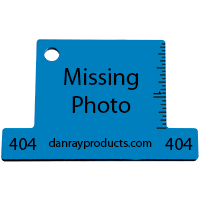 ANSI incorporated the recommended dimensions from Liberty Mutual's machine-guarding drawings into its 1971 revision of the ANSI B11.1 safety standard for mechanical power presses. OSHA used ANSI B11.1-1971 as the basis for its own mechanical power presses standard, 1910.217, which was also published in 1971. Therefore, Liberty Mutual's machine-guarding drawings and their recommended dimensions were used for Table O-10 and the Safe Openings Diagram of OSHA 29 CFR 1910.217, which remain unchanged and are still used today for compliance.
Our OSHA guard safety scale can be used to check the openings in barrier guards for OSHA compliance. The yellow-colored, three-section folding scale has inches on both sides and includes the maximum permissible opening of six inches. It is made out of anodized aluminum and has easy-to-read text and graphics that will not rub or scratch off. It can be used during the design, installation, and inspection of barrier guards to make sure they comply with OSHA 29 CFR 1910.217.