Limited stock with 4- to 5-week lead time. If delivery is critical, please call us at 815.262.6667 to confirm availability before placing order.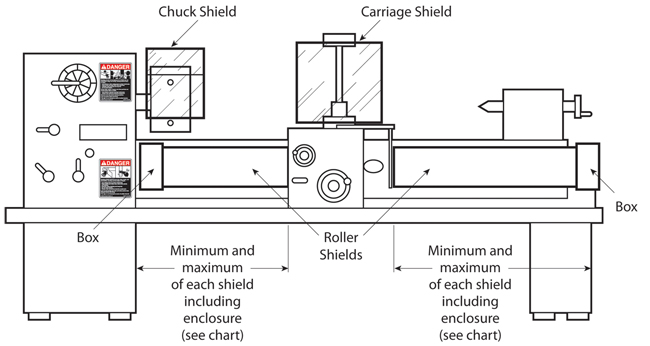 Part No.
Minimum opening
(including box)
Maximum opening
(including box)
Box
height
Fabric
height
Price
(per box)*
RS-640
4"
40"
8"
6"
$ 434.00
RS-880
5"
80"
10"
8"
484.00
RS-10100
5"
100"
12"
10"
586.00
RS-12200
6½"
200"
14"
12"
938.00
RS-14250
6½"
250"
16"
14"
1,038.00
Custom shields are available on request.

*In most cases, two roller shield boxes are needed on lathes (one for the left and one for the right of the carriage).
These roller shields are designed for lathes or similar machines. They provide a safeguard between individuals and rotating hazards by helping prevent clothing, hair, etc., from being pulled into the leadscrew and other shafts below the bed of the lathe.
Roller shields can also be used on numerous other machines. They can be mounted horizontally (as on a lathe), vertically, or at any angle depending on the application. The shields are priced individually. A typical lathe will need two roller shields (one for each side of the carriage).
The roller shield is furnished in a steel enclosure with a clock-type, spring-loaded rewind inside for the fabric. The 0.34-mm-thick fabric is made of polyester coated on both sides with polyurethane (PUR/PES/PUR). It is resistant to cutting oils, coolant, and chips, and there is a wiper that removes excess liquid and chips as it enters the enclosure.
On lathes, the roller shield boxes are usually mounted to the far left and far right on the front of the machine. The fabric plate is fastened to the carriage directly or with an
optional mounting bracket
. When measuring for the length of the fabric, be sure to measure when the carriage is at its farthest left and right positions. Make sure that there will be enough room for the box and fabric when the carriage is at its farthest left, where a majority of machining is done. If there isn't enough room, the box will need to be mounted on the front of the headstock. To determine the height of fabric, measure the height of the area where the shafts are located. Please see the chart above for sizes of roller shields available.
Note: The mounting tabs on the roller shield boxes and the optional mounting brackets are intentionally left blank. Holes will need to be drilled and mounting brackets may need to be fabricated or furnished to mount the shield to the machine. Each box is furnished with seven ¼"-20 x ¾" long hex-head cap screws, seven ¼" washers, and seven ¼" locknuts.