Point-of-Operation-Opening Safety Scale Images
(click an image below to enlarge it)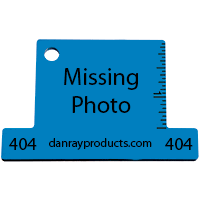 POSS-250 Point-of-
Operation-Opening
Safety Scale Front View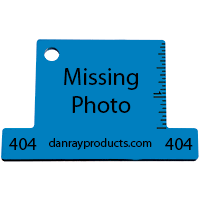 POSS-250 Point-of-
Operation-Opening
Safety Scale Back View
Product Information
OSHA 29 CFR 1910.217(c)(1)(i) requires point-of-operation guards or properly adjusted point-of-operation devices on every operation performed on a mechanical power press. However, according to 29 CFR 1910.217(c)(1)(ii), this requirement does not apply when the point-of-operation opening is 1/4" inch or less.
A 1/4" (6 mm) or less point-of-operation opening is common on machines that have a very short working stroke and in situations where the hazard has been designed out.
Our point-of-operation-opening safety scale can be used to quickly check the point-of-operation opening for no safeguard required in accordance with OSHA 29 CFR 1910.217(c)(1)(ii) as well as applicable ANSI (American National Standards Institute) and CSA (Canadian Standards Association) machine safety standards. It has a tapered design allowing it to be used in tight, obstructive areas. The natural-aluminum scale is made out of durable, 0.090"-thick anodized aluminum, it has a 0.25" hole, and it has easy-to-read text and graphics that will not rub or scratch off. It is about the size of a credit card, which makes it convenient to carry and store.